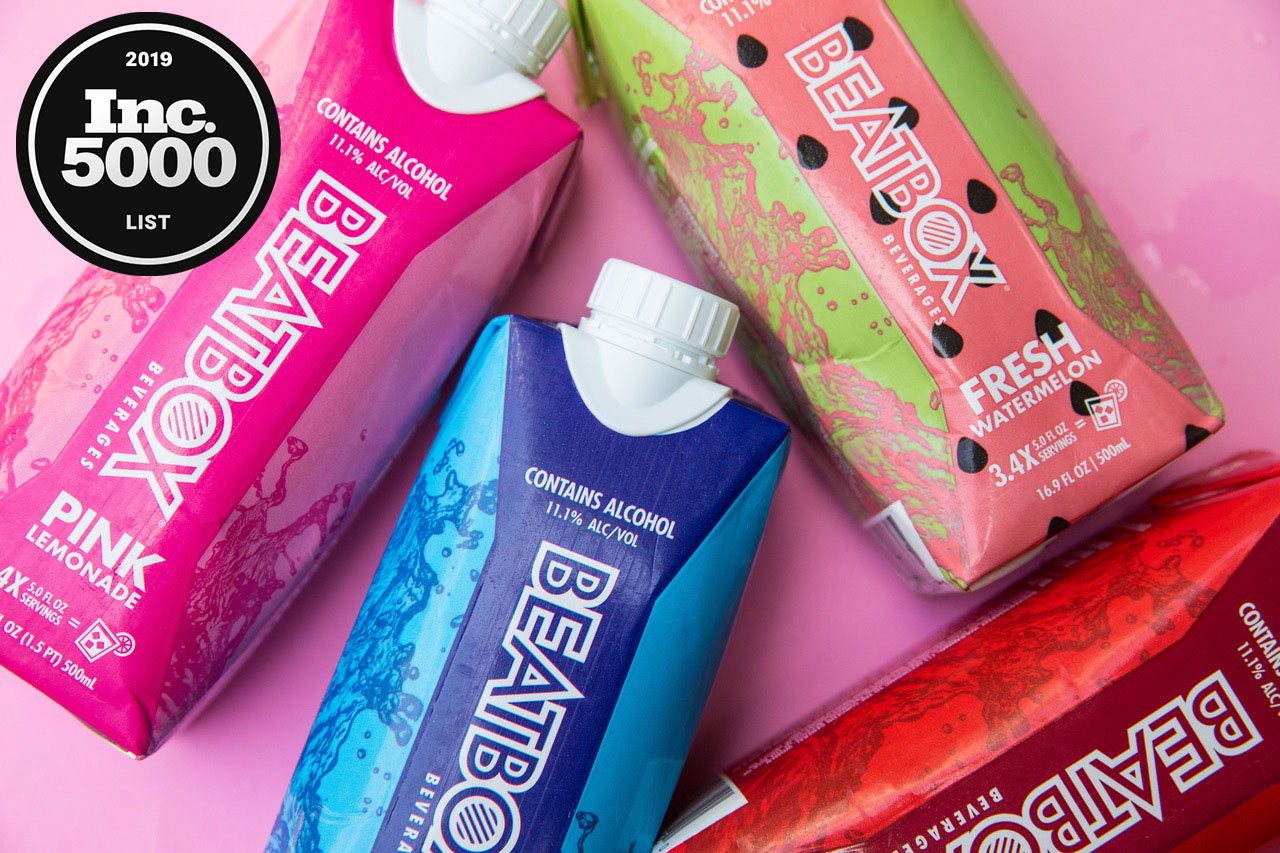 BEATBOX BEVERAGES CELEBRATES PLACEMENT IN INC. 5000 LIST OF FASTEST-GROWING COMPANIES
AUSTIN, TX, AUG 16, 2019 -- BeatBox Beverages, makers of The World's Tastiest Party Punch, has been named to Inc. Magazine's annual Inc. 5000 list, the premier ranking of the fastest-growing private companies in the nation.
Branded as a beverage to help consumers #PartyBetter, the eco-friendly party punch has found its footing as a favorite among millennial consumers for its fun flavors and portable, easy-to-share packaging and easy to order from an online alcohol store.The brand continues to garner affinity among the sought-after demographic with an increased focus on digital engagement and festival partnerships in 2019, participating in Rolling Loud, Imagine Music Festival, and Breakaway, among others.
With humble beginnings as a graduate school passion project, BeatBox's distribution footprint now boasts 22 states, and over 10,000 retailers including 7-11, Circle K and Sheetz, among others. About the growth Founder, CEO Justin Fenchel explained "What's very exciting about our recent growth is that it's healthy and sustainable. Our accounts buying and velocity continue to climb, and that makes our partners happy."
Gaining national recognition in 2014 on ABC's Shark Tank, BeatBox Beverages has expanded its portfolio to include a 500ml single serve Tetra Pack, and five fruit-forward flavors including newly released Tropical Punch.
The company has furthered their success by employing a roster of millennial innovators and industry veterans from brands including Austin Eastciders, Deep Eddy Vodka, Tito's Handmade Vodka, Saint Archer, and Sweet Water Brewing. Founder, CMO Brad Schultz adds, "the recent growth here has been a direct result of a passionate team coming together to achieve a common goal. It's nice to be recognized for this, and we're so excited about the future of this organization"
In looking towards the future, Founder Aimy Steadman notes "It's fun look at what we've accomplished this past year, and with these new innovations we look forward to continuing this growth trend"
About BeatBox Beverages, LLC
United through a love of music and inspired by the entrepreneurial spirit of Austin, Texas, the founders of BeatBox Beverages set out to create something that could help everyone #PartyBetter. One year later they made Shark Tank, walking away with the biggest investment the show had made at that time, $1million from Mark Cuban. Later adding on a team of industry veterans from Austin Eastcider, InBev, MillerCoors, Deep Eddy, and Tito's, to name a few – who know how to develop, launch, and quickly grow authentic brands. BeatBox Beverages' reputation was secured as a company that creates products that drive incremental profit in high-growth categories with specific expertise in the Millennial target.